OUTREACH
Have Questions for Our Outreach Team? Do you want to volunteer as an Outreach Coordinator for next In-School Event?
Outreach Coordinator: Leah Faure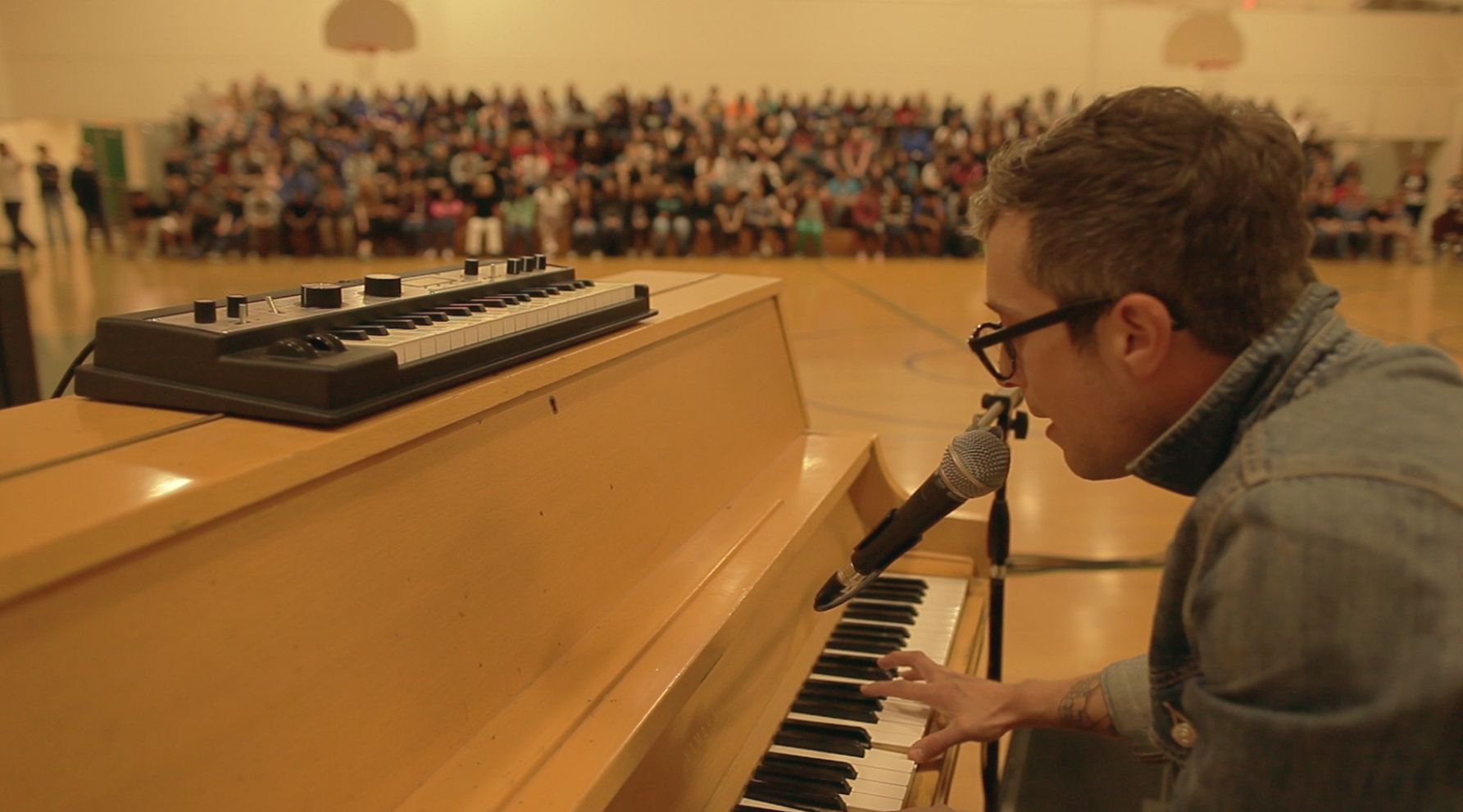 Grammy
recipient artist,
Portugal the Man
| Performing at Parkrose Middle School
Outreach Overview
For the past 8 years, PDX Pop Now!'s educational programming has reached out to young audiences by putting Portland's creative capital front and center in gymnasiums and classrooms across the city.
PDX Pop Now! runs major fundraising efforts to ensure that these programs are free of charge to the schools we serve. In addition to the bands, arts educators and sound engineers that we bring in, we also have a small army of volunteers to help facilitate the smooth running of the program.
PDX Pop Now! is a volunteer-driven, 501c3 non-profit organization committed to celebrating and promoting Portland's vital music community. Begun in 2004 in true DIY fashion by roughly a dozen members of a local indie-pop email list, the group has produced fourteen music compilations and free, all-ages, multi-day music festivals, to which scores of Portland artists both nationally-heralded (including The Decemberists, The Thermals, Lifesavas, Menomena, Blitzen Trapper and The Blow) and lesser-known have contributed recordings or performances.
Through our outreach programs, PDX Pop Now! approaches young people as both supporters and collaborators by means of exposure and experience. For most kids, it marks their first experience with live, local music–and for many, live music altogether. More importantly, many of these students will engage in the music community not just as listeners, show-goers & fans, but as creators as well. Our outreach program is an event that works to put as little pressure on the school as possible. With a full day of free arts programming, we bring in arts educators who run workshops in the morning ranging from screenprinting and lyric-writing to hands-on experience with musical instruments.
The festivals, which allow the public to see up to fifty of Portland's finest bands in one central, accessible venue, have drawn audiences in the thousands. The compilations have generated considerable play from local and national FM radio and sold thousands of copies combined, mostly through local independent record stores, to help fund the yearly festival.
Additionally, through outreach programs, PDX Pop Now! has worked successfully with the Oregon Liquor Control Commission, local businesses, schools and the broader community to make more all-ages safe concerts possible and allow young Oregonians to participate more fully in the local arts community.
Past participants:
George Middle School
Boise Elliot
HB Lee
Beach k-8
Harrison Park k-8
Lynch View Elementary
Parkrose Middle School