INFO
The 2022 PDX Pop Now! Festival Taking Place August 22-28!
The PDX Pop Now! annual festival is back featuring over 40 Portland artists across multiple Portland venues.
Featuring: Blowout, Club Deluxe, Collate, Gary V, Halloweener, Has/Will, Headache, Horse Pills, Inny, J. Graves, Kingsley, Maarquii, Mic Capes, Mnemonic Pulse, Neal Morgan, Nick Normal, Phame, Phone Voice, Quasi, Red Candy, Room, Saloli, Sea Moss, Soft Cheese, Still/Form, Talking Contest, The Mistons, Twistur, Whisper Hiss, + many more TBA.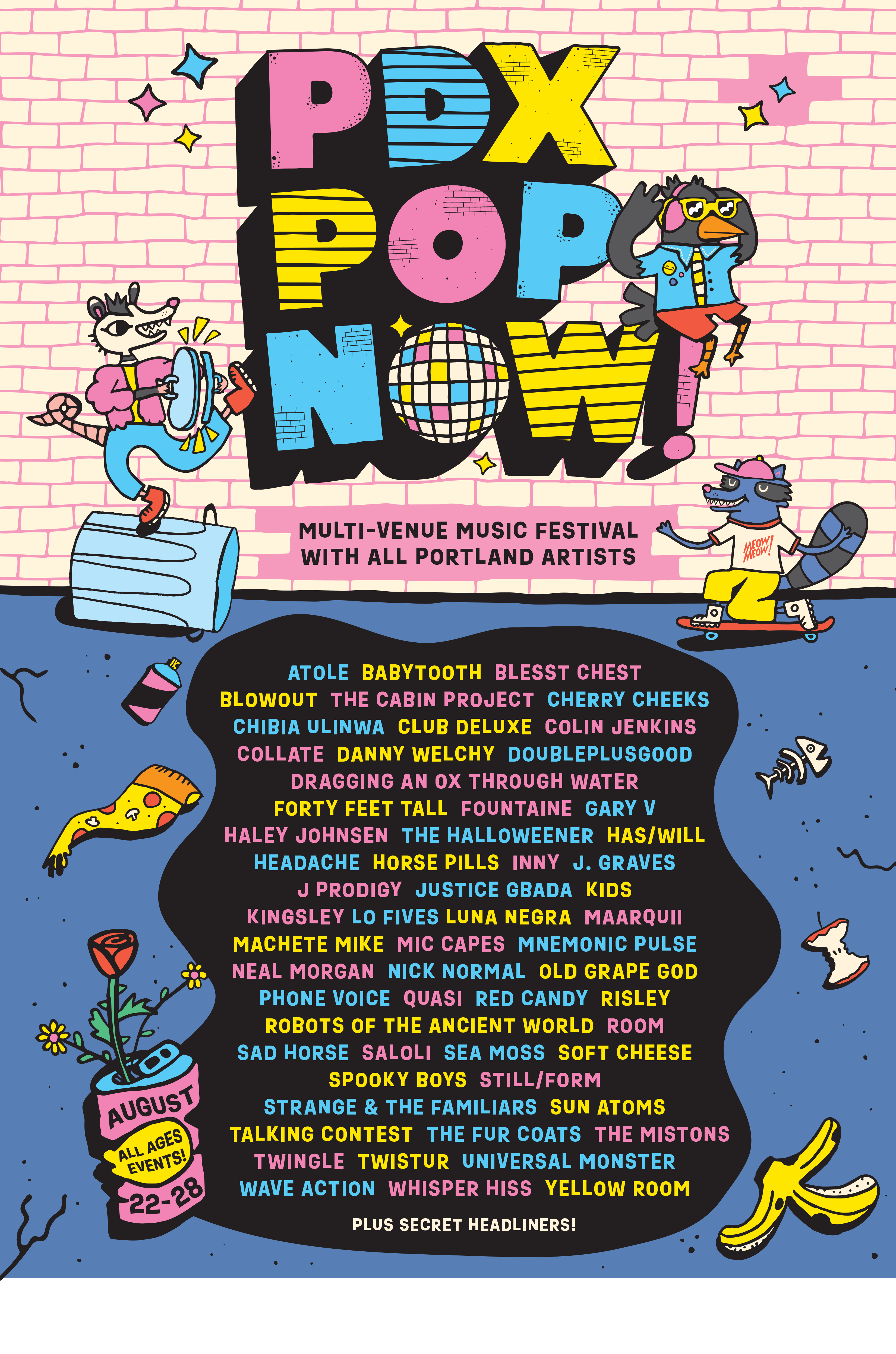 Why this format? The last two years have been particularly difficult for venues, musicians, and the music industry as a whole. As a response, we decided to make some big changes to our festival this year, including initiating our longtime goal of paying participating artists (the festival has long been a 100% volunteer event), and collaborating more closely with music venues in our community.
What will this look like? In addition to two outdoor, all ages, and free events on August 27 and 28 at the Kenton Club, the festival will expand to feature multiple daily events throughout the week. We will be offering accessible ticketed events, daily free events, and a select number of after hours 21+ events which will serve as fundraisers to support PDX Pop Now's ongoing programming. Our aim is to create an opportunity for every band who plays a 21+ show to play a second show for an all ages audience, and from the response we've received, Portland musicians are eager to do so.
The most important component for us is to continue to support Portland music and the expansion of all ages music through our annual festival and compilation. Many of the participating venues are opening their doors early and hosting all ages shows for the very first time. It's an opportunity to bring some of the best Portland music to a wider audience, and collaborate with the venues that have been integral to supporting Portland music year-round.
Interested in volunteering at the festival this year? Sign up here
Participating venues include: Kenton Club, The Fixin' To, Blackwater, Turn Turn Turn, Zero Wave, Mothership Music, Speck's Music, with fundraising events at The Firkin, Kelly's Olympian, and The Jack London Review.
The complete schedule and lineup will be announced in the upcoming weeks, so in the meantime, clear your schedules for August 22-28 and join us for a weeklong celebration of our Portland music community.
PDX Pop Now! Festival 2022
August 22-28
Daily All Ages Events + Selected 21+ Fundraising Events

Code of Conduct:
PDX Pop Now! respects the rights, dignity and worth of each person–artist, volunteer, attendee or otherwise–who is a part of the festival. The event is a celebration, with the expectation that all participants are treated equally regardless of age, gender, disability, race, ethnicity, religious belief, sexuality or social/economic status. We are committed to participants having the right to enjoy the festival in an environment free of threats, intimidation, harassment and any form of abuse.