Jonah
Excerpts from Performer Magazine
Melodically aggressive, Jonah is a well-balanced musical machine gliding ferociously through a panorama of evocative lyrics and provocative rhythms. Clean and sonically inviting, their songs embrace numerous incredible moments.
The melodic pop and rock of Jonah's music presents an ever present and rich wave of instrumental textures and feelings. Moving like a tide, it pulls the listener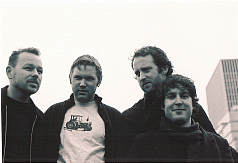 along through harmonically explosive instances that ride emotions to the top then draws them back for recovery, only to explode once more. In this way, their music is fully habit forming. Because their songs rise and fall in a swell of emotion and power, giving the feeling of expansiveness, it's as if every song is both a rocker and a ballad set in medium tempos.
Recently, Jonah has seen action with their music appearing in well-known TV shows such as Dawson's Creek. In June of 2003, the band signed a deal with the LA management team Alan Mintz and Chris Long (Nirvana, Queens of the Stoneage, Counting Crows) and has had several major label showcases in LA. The EP's one live cut, "All Things Remain," is as clean, energetic and perfect as a studio track. If this song is representative of the band's live performances, then Jonah should spawn a feeding frenzy among the industry sharks.
Band website:
www.jonahtheband.com