The Willamette Week Give!Guide is live! Please show your support for PDX Pop Now! by making a contribution.
This year we're hoping to inspire even greater support, and with your help we'll meet and exceed our goal of raising $5,000 to fund our burgeoning school outreach programming.
2010
PDX

Pop Now! Festival

July 30 – August 1
Rotture (315 SE 3rd Ave, PDX)
Click here for details!
Buy the 2010 Comp!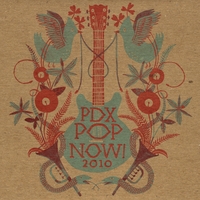 Hot off the press! Get it online from CD Baby or at record stores around Portland such as Everyday Music, Jackpot Records, Music Millenium, Tender Loving Empire, and many more!
Online Friendliness
Volunteer
Want to be a part of PDX Pop Now! 2010? Get in touch with our volunteer coordinator here.
Join our mailing list
Buy the Photo Book
This book is a collection of hundreds of photographs by 16 different photographers that visually document the tremendous variety of artists that have performed at PDX Pop Now! festivals and events during the first five years of our existence, 2004-2008. All proceeds from the book will directly benefit PDX Pop Now! so we can continue to operate and expand our reach for years to come. Thank you for your support!

OPB Music proudly supports PDX Pop Now's year-round programming.
Our Mission
PDX Pop Now! is dedicated to stimulating and expanding participation in Portland music. As an all-volunteer organization committed to being accessible, current, and local, we provide and support live performances and recorded materials. We aspire to advance a sustainable community which values inclusivity and a high caliber of artistry to enable a creative dialogue between artist and audience.
Festival Videos
Checkout videos of PDX Pop Now! events on YouTube.
Festival Photos
Here are some photos taken at past PDX Pop Now! festivals and events. If you have some you'd like to add, please chuck them into our Flickr group.
T-Shirts
Click here for t-shirts! Whee!
Support PDX POP NOW! Make a PayPal donation today.
100% of the money you give goes to support all of our activities.
PDX

Pop Now! Programs in Local Schools
PDX

Pop Now! wants to bring local music to your school!
How would your relationship to your school and learning be different if some of the best bands, emcees, DJs, singer-songwriters and laptop wizards in Portland came to your school to play a concert for you and your classmates, and to speak with you and your teachers about music history, technology, education, songwriting, and changing your community through art?
PDX Pop Now! wants to help you find out! And to give you a hint, here's how things looked at Parkrose Middle School on April 15, 2010 when Blue Horns, Blue Cranes, Grey Ann and Mic Crenshaw came by for the day to perform, teach and just talk. And that wasn't all. Instructors from some of Portland's best music education organizations including The Rock'n'Roll Camp for Girls, Music in the Schools and My Music Voice, – were also in attendance along with representatives from several music genres and from Mayor Sam Adams' offcie to tell students about their programs, as well as to let them rock out on guitars, keyboards, drums and basses, and mix it up on turntables that had been brought in specially for the day.
PDX Pop Now! wants to present more events like this, so let us know if one of them should be at your school.
As a key component of our mission to expand participation in the vibrant music community of Portland, OR, PDX Pop Now! strives to reach out to our area's young people as collaborators and supporters. In spite of the fact that the most engaging, influential and fecund regional communities in the history of modern music have been driven primarily by the energy, enthusiasm and creativity of people under 21, this demographic often gets left out of our local creative culture because of a lack of viable all-ages venues and the overly aggressive, homogenized mainstream music apparatus of major labels and commercial concerns.
We believe that young people who are active in their local music community, as musicians, organizers or fans, are fundamentally more engaged citizens, better prepared to advocate for themselves and the issues they believe in, inspired by the empowering do-it-yourself ethos of independent music. Where better to introduce Portland's young people and adult musicians to each other than directly in schools, where they can draw connections between what students are learning in their classes and the inherently exciting culture of popular music? Who better to encourage students' interest in the arts than local musicians who create in styles students are already interested in?
Email us if you have any ideas or suggestions about PDX Pop Now!'s school-based programs, or would like to set up an event in your school.