The Willamette Week Give!Guide is live! Please show your support for PDX Pop Now! by making a contribution.
This year we're hoping to inspire even greater support, and with your help we'll meet and exceed our goal of raising $5,000 to fund our burgeoning school outreach programming.
2010
PDX

Pop Now! Festival

July 30 – August 1
Rotture (315 SE 3rd Ave, PDX)
Click here for details!
Buy the 2010 Comp!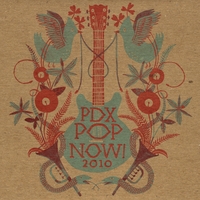 Hot off the press! Get it online from CD Baby or at record stores around Portland such as Everyday Music, Jackpot Records, Music Millenium, Tender Loving Empire, and many more!
Online Friendliness
Volunteer
Want to be a part of PDX Pop Now! 2010? Get in touch with our volunteer coordinator here.
Join our mailing list
Buy the Photo Book
This book is a collection of hundreds of photographs by 16 different photographers that visually document the tremendous variety of artists that have performed at PDX Pop Now! festivals and events during the first five years of our existence, 2004-2008. All proceeds from the book will directly benefit PDX Pop Now! so we can continue to operate and expand our reach for years to come. Thank you for your support!

OPB Music proudly supports PDX Pop Now's year-round programming.
Our Mission
PDX Pop Now! is dedicated to stimulating and expanding participation in Portland music. As an all-volunteer organization committed to being accessible, current, and local, we provide and support live performances and recorded materials. We aspire to advance a sustainable community which values inclusivity and a high caliber of artistry to enable a creative dialogue between artist and audience.
Festival Videos
Checkout videos of PDX Pop Now! events on YouTube.
Festival Photos
Here are some photos taken at past PDX Pop Now! festivals and events. If you have some you'd like to add, please chuck them into our Flickr group.
T-Shirts
Click here for t-shirts! Whee!
Support PDX POP NOW! Make a PayPal donation today.
100% of the money you give goes to support all of our activities.
PDX

Pop Now! 2010 Board of Directors

PDX Pop Now! is managed by a volunteer Board of Directors. Each board member is responsible for overseeing a particular facet of the organization, including but not limited to Logistics, Fundraising/Sponsorship, Grants, Outreach, Booking, Compilation, Tech/Web, Volunteer Coordination, Communications and Design. In this regard our Board operates in the capacity of a rotating volunteer staff. Below are brief biographies for lead PDX Pop Now! 2011 board members/staff.

Ben Kubany, Grants Coordinator was introduced to PDX Pop Now! by former Booking and Volunteer Coordinator, Elizabeth Dannen after the two worked together programming live music while attending Whitman College. Graduating in 2005, Ben moved to Portland a year later and works for regional talent booking and event planning agency, Sterling Talent. In 2008 he volunteered as a member of the Booking Committee before joining former Grants Coordinator, Scott Goodwin, on the grants team in 2009.

Benna Gottfried, Communications Coordinator works in development and marketing for a local social services non-profit. She earned a BA in American Studies from Occidental College in 2007. Benna is a native Oregonian, her family has been involved in the Portland arts community for four generations. Benna began volunteering on the Fundraising Committee for PDX Pop Now! in the Spring of 2009 and joined the board soon thereafter.

Ed Thanhouser, Booking Coordinator is a Portland-born writer and musician, who graduated with a BA in English from Reed College, class of 2006. A regular contributor to Oregon Music News, Ed plays shows around Portland as Ed & The Red Reds, and works at Portland Music Company by day. He first volunteered for PDX Pop Now! in 2009, but has attended the yearly festival since its inception in 2004.

Frank Rinaldi, Logistics Coordinator, originally from the NYC area, Frank relocated to Portland after graduating from Gettysburg College in 1996. He served as the President of local company Cascade Media for eight years before moving on to the marketing department at the Rose Quarter in early 2009. When not working his day job, Frank will moonlight in various capacities at local and regional festivals which ultimately led him PDX Pop Now! when he joined the Booking Committee in 2009. Frank also serves as the founder and administrator for local music blog Basement of Our Brain and keeps an active schedule of seeing live music of all genres around the country with a special affinity for The New Orleans Jazz and Heritage Festival which he's attended for 9 years.

Hannah Rosenau, Outreach Coordinator, is a Portland Native and works at a non-profit serving women's reproductive health needs. In 2010, she was the Volunteer Coordinator for PPN! and is excited about her new role in Outreach.

Jesse Studenberg, Compilation Coordinator has been playing music in Portland since moving here in 1999, most notably as a founding member of the Portland indie-rock band Point Juncture, WA. He has been involved with PDX Pop since 2005 and took on distribution responsibilities for the 2009 compilation before being asked to join the board as the Compilation Coordinator for 2010. During the day he runs Full Life, an art, recreational, and vocational program for adults with developmental disabilities. He currently writes music and plays shows under the name Bazillionaire.

Lisa Pfaffinger, Volunteer Coordinator, lived in Minneapolis and Charlottesville, VA before moving to Portland in 2003, and discovered the first PDX Pop Now! compilation as her introduction to the local music scene. She has been volunteering with PDX Pop Now! for several years on the compilation listening committee, as a festival volunteer, and with the booking committee, and joined the board for 2011. She completed a Ph.D. from the University of Virginia in psychology in 2007, and works as a Child and Family Therapist for a local children's mental health nonprofit.

Nick Johnson, Board & Sponsorship Coordinator is the Office Manager at the Willamatte Week. He is a native Oregonian and after graduating from Whitman College in Walla Walla, Washington in 2007 returned to Portland and began volunteering for PDX Pop Now! This is his fifth year as a volunteer and third year on the Board as the Board Coordinator.

Scott Becker, Web & Tech Coordinator grew up in Tampa, Florida and moved to Portland in January of 2008. A long time musician and ardent supporter of live, local music, he soon lucked upon PDX Pop Now! After volunteering with the booking committee for two years, he joined the board as Web and Tech Coordinator. He graduated from the University of South Florida in 2003, and works at WeoGeo as a web developer.

All Board Members can be reached by email at first name.lastname@pdxpopnow.org

Advisory Board

Cary Clarke, Senior Advisory Board Member Arts & Culture Policy Coordinator for City of Portland in the office of Mayor Sam Adams, musician, freelance writer for the Portland Mercury, former ESL Teacher at Parkrose Middle School, founding member PDX Pop Now! Board of Directors.

Peter Shaver, Legal Counsel Music and Arts Attorney, owner of Sound Advice, LLC.