2010 Comp Submissions
It's that time of year again. We're now accepting submissions for the 2010 Compilation! All genres encouraged! Submit your track by February 28th, 2010
Buy the 2009 Comp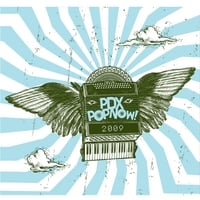 Get it online from CD Baby or at record stores around Portland such as Music Millenium, Jackpot Records, Everyday Music, and many more!
Online Friendliness
Follow our updates on Twitter: twitter.com/pdxpopnow
Friend us on MySpace
Friend us on Facebook
Volunteer
Want to be a part of PDX Pop Now! 2009? Get in touch with our volunteer coordinator here.
Join our mailing list

OPB Music proudly supports PDX Pop Now's year-round programming.
Our Mission
PDX Pop Now! is dedicated to stimulating and expanding participation in Portland music. As an all-volunteer organization committed to being accessible, current, and local, we provide and support live performances and recorded materials. We aspire to advance a sustainable community which values inclusivity and a high caliber of artistry to enable a creative dialogue between artist and audience.
Festival Videos
Checkout videos of PDX Pop Now! events on YouTube.
Festival Photos
Here are some photos taken at past PDX Pop Now! festivals and events. If you have some you'd like to add, please chuck them into our Flickr group.
T-Shirts
Click here for t-shirts! Whee!
Support PDX POP NOW! Make a PayPal donation today.
100% of the money you give goes to support all of our activities.
2009 Press
7/29/2009 OPBMusic
7/28/2009 OPBMusic
7/28/2009 Local Cut
7/28/2009 PDX Pipeline
7/26/2009 OregonLive.com
7/25/2009 End Hits
7/25/2009 OPBMusic.org
7/25/2009 OregonLive.com
7/24/2009 Portland Monthly
7/23/2009 thefmly.com
7/23/2009 The Culture of Me
7/23/2009 Pampelmoose
7/23/2009 Local Cut-These Are the Days Blog
7/23/2009 OregonLive.com
7/23/2009 Portland Mercury
7/22/2009 KEXP 90.3 Blog
7/22/2009 Willamette Week
7/21/2009 Pitchfork.com
7/20/2009 PDX Pipeline
7/18/2009 OPBMusic.org
7/16/2009 End Hits
7/14/2009 PDX Pipeline
7/14/2009 Oregonlive.com
7/13/2009 Local Cut
5/21/2009 Basement Of Our Brain
5/21/2009 Willamette Week
5/21/2009 Portland Mercury
4/30/2009 Portland Mercury
4/29/2009 Portland Mercury
4/22/2009 Pitchforkmedia
4/20/2009 Basement Of Our Brain
4/20/2009 Portland Mercury
4/20/2009 Willamette Week
2008 Press
7/11/2008 Portland Octopus
7/11/2008 Indie Music Portland
7/11/2008 Oregon Live Blog/Pampelmoose
7/13/2008 Seattle Sound
7/14/2008 Delusions of Adequacy
7/15/2008 Oregon Live
7/15/2008 Portland Mercury
7/15/2008 Blurt
7/16/2008 CMJ
7/18/2008 MTV News
7/25/2008 Paste Magazine
9/11/2008 Portland Mercury Festival Announcement
2008 Videos
8/5/2008 Panther – Spin.com
8/12/2008 Dykeritz – Blurt
8/12/2008 White Fang, A Weather and Tu Fawning – Mercury Music Blog
2007 Press
08/06/2007 Oregonian Festival Review
08/06/2007 Local Cut: PDX Pop Now! Day 3
08/05/2007 OPB
08/05/2007 Local Cut: PDX Pop Now! Day 2
08/04/2007 Local Cut: PDX Pop Now! Day 1
08/03/2007 Oregonian Feature
08/03/2007 Portland Tribune Feature
08/02/2007 Portland Mercury Festival Feature
08/01/2007 Willamette Week Festival Preview
08/01/2007 Daily Vanguard
07/27/2007 LC Podcast: These Are the Days: PDX Pop Now! edition
07/27/2007 Local Cut on City Hall Show Pt. 2
07/16/2007 Local Cut on City Hall Show Pt. 1
07/15/2007 Well Rounded Radio Interview
07/09/2007 Audiversity
07/03/2007 Fresh Sides
06/27/2007
06/26/2007 Sound on the Sound
06/21/2007 KEXP (scroll down)
06/21/2007 Northwest Noise
06/20/2007 Treble Zine
06/20/2007 NewNowNext (LOGO TV Blog)
06/19/2007 Pitchfork
06/19/2007 Side One: Track One
06/19/2007 Pop Music (Oregonian) on Initial Festival Lineup
06/19/2007 Local Cut on Initial Festival Lineup
06/19/2007 Portland Mercury Blogtown on Initial Festival Lineup
06/18/2007 I Guess I'm Floating
06/16/2007 songs: illinois
06/08/2007 Oregonian Album Review
06/08/2007 Portland Tribune on CD Release (scroll down)
06/07/2007 Portland Mercury on CD Release (scroll down)
05/24/2007 KellyWatchTheStars
05/23/2007 Local Cut on Comp Tracklisting
05/09/2007
Local Cut Parkrose Show Review
05/05/2007 Portland Mercury Blogtown on Parkrose
05/02/2007 CMJ on Parkrose Middle School
04/26/2007 Local Cut on Parkrose Middle School
Community Coverage
As is hardly surprsing, the public does a better job of documenting the PDX Pop Now! festivals than we could ever do. That being the case, we hope you enjoy the podcasts, photos, videos and bloggage that other people have made available to any and all. Thanks for making things with us!
Podcasts courtesy of Tables Turned
Blog coverage on Urban Honking
2006 Festival Press
07/31/06 Oregonian Review
07/31/06 Willamette Week Local Cut Review
07/28/06 Portland Tribune Feature
07/27/06 Portland Mercury Feature
07/26/06 Tiny Mix Tapes Story (scroll down)
07/24/06 Villains Always Blink
07/21/06 WW Local Cut on City Hall Concert
07/20/06 WW Local Cut on Festival Schedule
07/17/06 WW Local Cut on Lineup
07/13/06 Fluxblog
07/06/06 CMJ Story
07/05/06 Pitchfork Story
06/30/06 Stereogum
06/30/06 Gorilla vs. Bear
06/30/06 Largehearted Boy
05/09/06 Portland Mercury Interview
2005 Festival Press
08/15/05 Tiny Mix Tapes Recap (scroll down)
08/12/05 Oregonian Recap
08/10/05 Willamette Week Recap
08/05/05 Oregonian Mention (scroll down)
08/04/05 Portland Mercury Feature and Band-by-Band Guide
08/03/05 Oregonian Feature and Picks
08/03/05 Willamette Week 2004 Recap and 2005 Preview
07/28/05 Tiny Mix Tapes
06/23/05 Portland Mercury
05/06/05 Pitchfork
03/17/05 Portland Mercury
CD Press
CORTNEY HARDING, Portland Tribune
Several recent compilations have attempted to showcase the local music scene. While none of them fully encompasses all the styles of Portland music, the second PDX Pop compilation does a great job demonstrating that the city has a vibrant pop scene.
With two CDs and 41 songs, there is something for every taste. The first CD kicks off with Sleater-Kinney's aptly titled "Rollercoaster," and demonstrates that the band is on top of the world for a reason. Mirah slows things down a few tracks later with a home-recorded version of "While We Have the Sun," while Nice Nice speeds things up with "Uh-Oh."

Other CD-1 highlights include Glass Candy's sexy, spastic dance track "Lovin Machine," the glitchy "Just Expect" by Copy and Talkdemonic's beautiful "Mountaintops in Caves." The CD closes with "Chemical Reaction," by the Spooky Dance Band, and reminds us again what great talents were lost in a bike accident in 2003.

The second CD features more big name acts, among them the Decemberists, the Gossip and M Ward. While all provide stellar tracks, it's the farm-league contenders who'll really blow listeners away. The Snuggle Ups bounce around the room, while the Cajun Gems sit on the porch and twang. Die Monitr Batss create chaos. Norfolk and Western soothe.
This compilation is by no means a definitive guide to Portland music, but it's a good starting place for curious listeners. Give it a spin and find a new favorite band — many of which will perform at the PDX Pop Now! Festival this weekend.
KIP BERMAN, Portland Mercury
Compilations are, by their very nature, uneven affairs – meant more to showcase a variety of artists than offer a cohesive listen. That said, PDX Pop Now!'s sophomore offering is just as much a success as last year's debut. Sure, hiphop and Klezmer are equally represented (one track a piece), and yes (surprise!), there's an overabundance of whiny dudes with four tracks in their bedroom. But hey—that's Portland. The good folks who put out this comp and organize the PDX Pop Now! festival have their hearts and ears in the right place. Listening to the standout contributions from such diverse artists as Dolorean, The Gossip, Glass Candy (Miami Pop Now!?), Point Line Plane, Viva Voce, The Snuggle Ups, M. Ward, Wet Confetti, and The Helio Sequence remind me what a fantastically creative and vibrant music scene we are lucky enough to have in our own backyard.
MARK BAUMGARTEN, Willamette Week
Served on two discs, this collection offers a snapshot of a music scene that's about more than just "pop," that percussive palindrome that points to music meant to be consumed en masse. The compilation leaves out much of Portland's music community: mostly, the musicians working within the boundaries of genres like country, jazz, gospel, old time, metal and, save one song, hip-hop. Instead, the collection focuses on the city's forward-looking musicians, artists who are interested in reforming the templates of popular music, using new and old tools to create something fiercely original. These are many of the artists who are creating the framework for a scene that is uniquely Portland in both its geography and its form. But what is that form?
Well, it includes women, as the PDX Pop Now! compilation features a dozen female-fronted bands, from the angry (the Gossip, Sleater-Kinney) to the kind (Mirah) to the undeniably rad (the Blow, LKN). It also has an isolationist streak, as nearly half the acts included here opt to work the one- or two-person-band route while making music that reinvents the sound palette (Nice Nice, Talkdemonic, Y.A.C.H.T.) or reimagines tradition (Dolorean, Alan Singley, Jessica Jones).
And I have no idea what that means for the scene, except that it sounds great and, jokes aside, sounds like Portland-a sweeping geographical generalization that I'm willing to claim.