2010 Comp Submissions
It's that time of year again. We're now accepting submissions for the 2010 Compilation! All genres encouraged! Submit your track by February 28th, 2010
Buy the 2009 Comp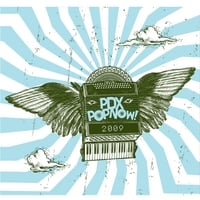 Get it online from CD Baby or at record stores around Portland such as Music Millenium, Jackpot Records, Everyday Music, and many more!
Online Friendliness
Follow our updates on Twitter: twitter.com/pdxpopnow
Friend us on MySpace
Friend us on Facebook
Volunteer
Want to be a part of PDX Pop Now! 2009? Get in touch with our volunteer coordinator here.
Join our mailing list

OPB Music proudly supports PDX Pop Now's year-round programming.
Our Mission
PDX Pop Now! is dedicated to stimulating and expanding participation in Portland music. As an all-volunteer organization committed to being accessible, current, and local, we provide and support live performances and recorded materials. We aspire to advance a sustainable community which values inclusivity and a high caliber of artistry to enable a creative dialogue between artist and audience.
Festival Videos
Checkout videos of PDX Pop Now! events on YouTube.
Festival Photos
Here are some photos taken at past PDX Pop Now! festivals and events. If you have some you'd like to add, please chuck them into our Flickr group.
T-Shirts
Click here for t-shirts! Whee!
Support PDX POP NOW! Make a PayPal donation today.
100% of the money you give goes to support all of our activities.

Dylan McConnell doesn't generally like talking about himself, his work, or any of that garbage. In fact he doesn't want to talk about it at all. He'd rather bike around, make music, go to shows, eat mexican food and hunt for delicious, delicious vinyl.
His work is can be found here – www.tinylittlehammers.com
Bio:
Emek has been referred to as "The Thinking Man's Poster Artist".
Coming from a unique family of 5 artists, Emek has made his mark creating special posters and album covers for prominent musicians for 15 years.

He was recently credited for creating some of the best rock posters of all time by Billboard Magazine…

Emek' style thrives on attention to detail, coupled with layers of meaning in the artwork. His infusion of socio-political commentary into pop culture imagery has made his work instantly recognizable in the field. Emphasizing craftsmanship, his work is still hand-drawn in the tradition of the classic psychedelic posters from the 1960's. Born in the 70's Emek was also strongly influenced by the DIY punk flyers of the 80's.

Over the last 2 decades, Emek has created hundreds of posters for some of the top alternative bands and events, like Coachella, the Decemberists, Queens of the Stone Age, Tool, System of a Down, Pearl Jam, The Flaming Lips, to name a few. As well as album covers from Neil Young and Pearl Jam to Henry Rollins and Erykah Badu. Emek's work has been shown in galleries across the United States and Europe. He has been interviewed on CNN, and featured in dozens of magazines and books.
For more about his work, visit www.emek.net