Empty Set
Since the Spring of 2000, the Empty Set has been writing and recording rich, layered guitar-driven pop songs. The band has played many shows in and around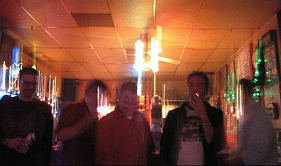 their hometown of Portland, OR. In the vein of Built to Spill, Pinback, Wrens, Broken Social Scene the members of the Empty Set strive to create soaring, hook-filled songs on a large scale with varied instrumentation and careful songwriting.
Enduring several line up adjustments, the Empty Set has refined their dense, melodious take on guitar pop while remaining consistent in their drive to sculpt stronger and stronger tunes. They have produced 2 Eps: 2002's self titled release, and 2003's Under the Months, both recorded, produced and mixed themselves at their home studio.
The Empty Set's lastest 4-song demo The Power of Telekinesis is a preview of 3 songs from their upcoming LP An Elaborate System of Harnesses and a interesting, new take on the Beatles' Happiness is a Warm Gun.
Band website:
www.emptysetband.com